Enviromena installs rooftop solar at Dubai World Trade Centre
Power generated will help save 2,000 tonnes of carbon dioxide each year, equivalent to taking 172 cars off the road
Abu Dhabi-based Enviromena Power Systems, one of the region's leading clean energy companies, has completed a rooftop solar photovoltaic (PV) installation for Dubai World Trade Centre (DWTC) in record time.
The 1 megawatt system, located above DWTC's Sheikh Rashid Hall, includes more than 3,000 solar photovoltaic (PV) panels covering 6,600 square meters of rooftop space. Enviromena began construction in mid-November with the project coming online four months later, and will oversee the operations and maintenance over the next five years.
"We set out to quickly complete the DWTC solar project, which was challenging given the site is one of the top destinations for conferences and events hosted in the UAE," said Sami Khoreibi, chief executive of Enviromena.
Many events are held annually at DWTC, including in the clean energy sector such as the World Green Economy Summit (WGES) and the Water, Energy, Technology and Environment Exhibition (WETEX). The center hosted 353 MICE (meetings, incentives, conferences and exhibitions) and business events last year with 3.3 million delegates and attendees.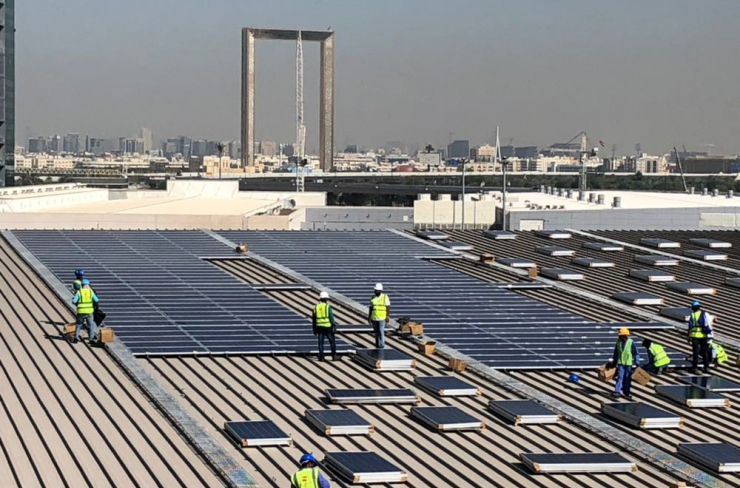 Over 3,000 solar PV panels completed in four months
Khoreibi added: "Getting approvals from both Dubai Municipality and Dubai Electricity and Water Authority has shortened with the growing popularity of projects such as this installation. We are excited to have reached a record installation time with the DWTC project."
"The adaptation of commercial and industrial scale solar power in the UAE is growing as more companies see the benefits – not only environmentally, but also in terms of savings," said Ayham Mkalalati, director of business development at Enviromena. "The rooftop solar installation at DWTC is expected to have a five-year payback period."
Enviromena also integrated walkways to support the cleaning of the solar PV modules. The solar power generated will help save 2,000 tons of carbon dioxide each year, equivalent to taking 172 cars off the road.