Dubai now generates 413MW from MBR solar plant
After the addition of 200MW, solar power will now generate 4% of Dubai's total installed capacity
Dubai has connected a total of 413MW solar generated power to its grid following Monday's launch of 200MW at the Mohammed Bin Rashid Al Maktoum (MBR) solar plant.
The new addition is the first stage of the 800MW phase 3 of MBR solar park and can generate enough power for 60,000 homes.
The second and third stages of the third phase, rated at 300MW each, will be completed in 2019 and 2020, respectively. 
The project stage was inaugurated by His Highness Shaikh Mohammad Bin Rashid Al Maktoum, UAE vice-president, prime minister and ruler of Dubai at its location off Al Qudra in Dubai.
After the inauguration of the 200MW first stage of the 800MW third phase of the Mohammed bin Rashid Al Maktoum Solar Park, solar power will now generate 4% of Dubai's total installed capacity. #Dubai200 pic.twitter.com/CcxjXXF7p5— DEWA | Official Page (@DEWAOfficial) May 1, 2018
The project is one of the largest in the world based on the Independent Power Producer (IPP) and its being developed by a consortium led by Abu Dhabi Future Energy Company (Masdar) and EDF Group, through its subsidiary EDF Énergies Nouvelles.
"After the inauguration of this leading milestone, solar power will now generate 4 percent of Dubai's total installed capacity," said Sayed Al Tayer, managing director and chief executive of Dubai Electricity and Water Authority (Dewa).
The 800MW third phase photovoltaic (PV) solar project was awarded to Abu Dhabi's Masdar in 2016 at a then-world record levelised cost of energy (LCOE) of 2.99 US cents per kilowatt hour (US$29 per MWh). French utility EDF, through its EDF Energies Nouvelles unit, came onboard the next year (Read more: EDF takes Saudi stake in Dubai 800MW solar).
When complete, Phase 3 will generate electricity enough to power 160,000 homes that will displace 1.4 million tonnes of carbon dioxide emissions each year, figures from Masdar show.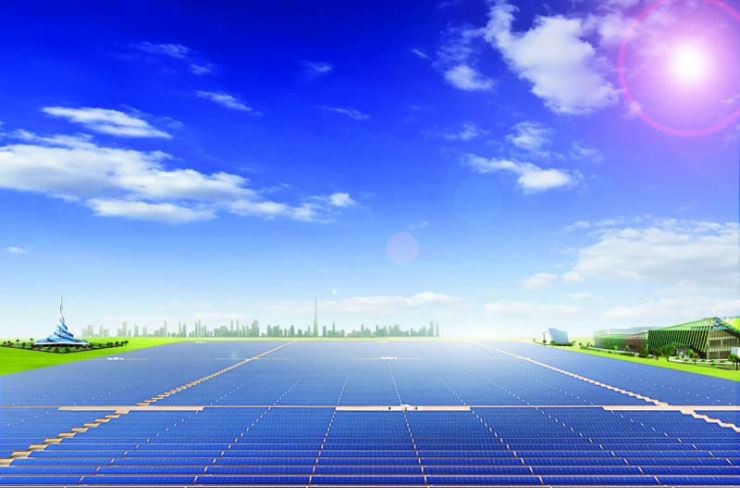 Sultan Al Jaber, UAE Minister of State and Masdar chairman, said that the region, which has led the way in the traditional energy sector, was now at the forefront of renewables highlighted by major projects currently underway in the UAE and Saudi Arabia.
"Masdar and Dubai Electricity and Water Authority have played an active role in enhancing the cost efficiency and productivity of renewable energy by deploying the latest advances in technology," said Dr Al Jaber.
"Solar power complements conventional energy in a relationship that makes perfect economic sense in this region - given the number of clear, sunny days in the year – by helping to reduce energy costs through peak shaving."
Jean-Bernard Levy, EDF Group chairman, added that the third phase was not only a "landmark development for the UAE, but it is also a significant milestone for the renewable energy industry globally". He said: "The solar park is now a clear reference in terms of scale, cost-competiveness and execution."
The MBR park is now generating 413MW of solar power and once complete, it will total 5,000MW.
Due to the size of the solar park, the Dubai Electricity and Water Authority (Dewa) has divided its construction into four phases. The first and second phases, which produce 13MW and 200MW respectively, are already generating clean power.
The solar park will generate solar power from a combination of photovoltaic and concentrated solar power (CSP) technologies.
Early this year, construction on the 700MW phase 4 of the MBR solar plant was launched at a cost $3.8bn and once operation commences in 2021, it's expected to meet the demand of over 270,000 residencies in Dubai, offsetting 1.4 million tonnes of carbon dioxide (CO2) emissions per year.
Saudi Arabia-based ACWA Power and Shanghai Electric won the tender to build the 700MW CSP plant in September 2017 with a bid of USD 0.073 (EUR 0.062) per kWh, which they say is the lowest offered levelised cost of electricity globally. The project is implemented under the independent power producer (IPP) model.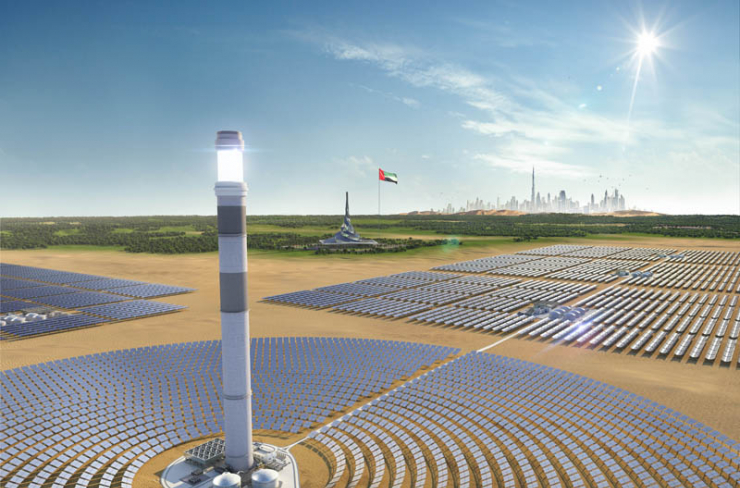 DEWA's Al Tayer also revealed that CSP capacity at MBR solar park would be scaled to 1000MW by 2020.
He said that DEWA plans to tender another 300MW of CSP capacity as part of Phase 4 in the first quarter of 2019.
Once all this capacity comes online, the UAE will be able to meet 7 per cent of its power needs from solar by 2020.
The MBR solar plant is the first of its kind in the Middle East and North Africa, with an advanced solar tracking system to increase generation efficiency. It also uses unique technologies including over 800,000 self-cleaning solar cells that maintain a high-performance level.