Battery storage – a solution for a brighter future
As regional utilities seek to meet their renewable energy targets, they must also address the intermittency of renewable energy sources with viable storage solutions, such as batteries, in order to ensure the sustainability of its uptake, says Robert Harward, Chief Executive, Lockheed Martin UAE
From powering our homes and workplaces to fueling our cars and charging our cell phones, it is an undeniable fact that energy is critical to our everyday lives. With the world's population projected to grow to 8.6 billion by 2030, we can expect energy demand to witness a significant surge in the long term.
This global megatrend bodes well for the utilities sector, as it forecasts needs well into the future, but also poses a challenge: How do we provide energy that is accessible, reliable, efficient and sustainable?
Aware of the issue, Middle East countries are beginning to diversify their energy sources – a curious development considering that the region is home to some of the world's leading oil and gas producers. Despite this, governments across the region are setting renewable energy targets, irrespective of their position on the global resource spectrum.
Oil-rich Saudi Arabia has a target of 9.5 gigawatts under Saudi Vision 2030, and the UAE aims to produce nearly half of its electricity via renewables by 2050. Meanwhile, Jordan – an energy importer – plans to boost its renewable energy capacity to 1.8 gigawatts by 2020.
@LockheedMartin and @CCRSolar have commissioned 12 MWh #energystorage systems for 12 solar-plus-storage projects. The system will provide clean electricity to communities in southeastern North Carolina.https://t.co/T7ZKvV8oPl— Energy Storage Assoc (@storage_ESA) March 27, 2018
While these targets are promising for renewable energy companies, as they demonstrate a commitment to the development and financing of the industry, the utilities sector must also address the intermittency of renewable energy supply with viable storage solutions – such as batteries – in order to ensure the sustainability of its uptake. 
While conventional power plants operating on diesel or gas boast a continuous supply of electricity - primarily because these resources can be stored for future use - renewable energy sources exist within a 'use it or lose it' window. This perceived barrier for their adoption can be overcome through leveraging battery storage solutions to store the energy until it is needed.
Organizations across the utilities industry, therefore, are setting their sights on battery storage, poised to become the next game changer in the energy industry.
Market analysts have estimated that battery storage prices have dropped by nearly 80 percent between 2010 and 2016. This enables energy storage providers to expand their applications to support renewables integration into the mainstream through replacing conventional power generators at times of peak demand, such as during the sweltering summer season in the Middle East.
"Battery electricity storage is just starting to be deployed at scale. Costs will fall & performance will improve"—@MTaylor_NZ #IRENAcouncil pic.twitter.com/mcQz1vMS47— IRENA (@IRENA) May 23, 2017
Battery storage involves sectors outside the utilities space. Lockheed Martin's GridStar™ energy storage solutions, for example, use lithium-ion batteries that transform energy into chemicals for storage during low-demand periods, and vice versa when the energy supply is lacking.
Energy management is also crucial in battery storage because the accurate measurement of demand and supply of electricity will eventually decide whether the framework is a success. And finally, cybersecurity solutions ensure that the systems are safe from data breaches.
Ultimately, the modern battery storage system is a digitally agile framework that requires the input of civil and chemical engineers, coordination with smart grid managers and contributions from data security experts.
Battery storage saves operating costs for energy providers, enhances the efficiency and security of the grid, and accelerates the adoption of renewable energy. In view of the GCC region's sustainability and diversification goals, these results will bring benefits to a variety of stakeholders across the public and private sector.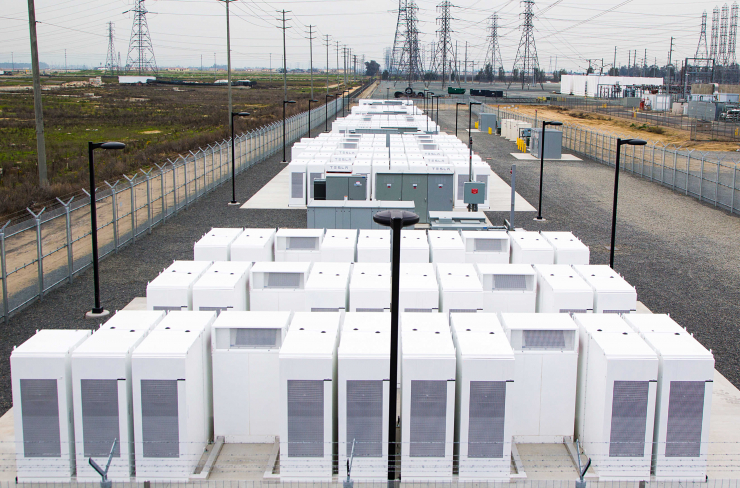 However, the battery storage sector faces certain challenges. Whether it is due to issues related to awareness or financing, political and economic instability, or a skills gap, battery storage adoption in the region lags behind renewable energy solutions. Despite the current state of affairs, independent power producers (IPPs) are exploring battery storage solutions in Egypt, Morocco, Jordan and Tunisia.
For utilities companies, advancements in battery storage solutions mean that the adoption of renewable energy is now more achievable than ever. However, educating stakeholders –from energy ministers, national electric utilities, policy makers and end users – about the benefits of these systems is vital. Battery storage offers a wealth of opportunities and can go a long way in ensuring a brighter, more connected future for all.