Powering the future
Electricity and water are the main challenges of fast growing economy such as Dubai. With the emirate's population projected to double by 2030, Dubai Electricity and Water Authority (DEWA) is leaving nothing to chance. From the largest solar park in the world, to the first ever coal power plant in the Gulf, DEWA is fully charged to power up the future of Dubai. Writes Baset Asaba
Until a few years ago, Seih Al Dahal was just another stretch of the harsh desert sands on the periphery of a sprawling city. But today, a revolution in the GCC power sector is taking shape right at the heart of this expanse located at Dubai- Al Ain road.
It is at Seih Al Dahal that for the first time in the GCC, electric power will be generated from a solar plant even after sunset, at the lowest cost ever recorded for concentrated solar plant (CSP) power generation.
"We have embarked on this journey that will change the energy landscape of Dubai," says HE Saeed Mohammed Al Tayer, MD & CEO of Dubai Electricity & Water Authority (DEWA). "When you want to guarantee stable and sustainable power supply for people, you have to place no limits on innovation and large scale investment."
Indeed, DEWA has been leading the way over the last decade by channeling additional resources geared towards a robust power and water network in Dubai, while at the same time coming up with ingenious ways to boost overall customer experience.
The CSP plant to be built at Seih Al Dahal by DEWA is the fourth phase of the Mohammed bin Rashid Al Maktoum Solar Park. The CSP plant is due to be operational by 2021.
The solar park uses a mixture of CSP and photovoltaic technology. Unlike photovoltaic panels that generate power directly from the sun, CSP plants use mirrors to concentrate heat on molten salt, whose heat powers a steam turbine. The molten salt remains hot enough to continue generating power even after the sun has set.
The Mohammed bin Rashid Al Maktoum Solar Park is the largest single-site strategic solar energy project in the world, based on the Independent Power Producer (IPP) model. The 13MW first phase of the park became operational in 2013.
The 200MW second phase of the solar park became operational in March 2017. In June 2016, DEWA announced that the Masdar-led consortium was the selected bidder for the 800MW third phase of the solar park, to be completed by 2020, based on the IPP model, after getting a Levelised cost of electricity (LCOE) of USD 2.99 cents per kilowatt hour (kWh).
The total capacity of the Mohammed bin Rashid Al Maktoum Solar Park will be 1,013MW by 2020, and 5,000MW by 2030, with total investments of $13.6bn. This project is another milestone for Dubai.
Al Tayer has been leading DEWA since 1991. Ever since, he has taken DEWA to a whole new level of international competiveness, positioning DEWA as an example to follow. "DEWA is now one of the best utilities in the world. This is thanks to the vision and directives of His Highness Sheikh Mohammed bin Rashid Al Maktoum, Vice President and Prime Minister of the UAE and Ruler of Dubai, and the limitless dedication of DEWA employees."
The solar park is a vital project for DEWA as it is one of the key contributors to the Dubai Clean Energy Strategy 2050 to expand the share of clean energy in Dubai to 7% by 2020, 25% by 2030, and 75% by 2050.
For Al Tayer, who has overseen the transformation of Dubai's power and water sector for over two decades, nothing seems beyond his reach. His name is associated with all the ambitious power and water infrastructure projects currently shaping Dubai.
With Dubai's population set to double over the next 14 years, according to Dubai Municipality's projections, it will need more electricity and water. Dubai saw a 4% increase in power peak demand last year compared to 2015, and that need isn't expected to slow. DEWA in response has set aside $17.8bn toward the Emirate's energy sector over the next five years.
"We are moving ahead with our development projects to provide the necessary electricity and water resources to meet the growing needs of the Emirate. We are doing so in a sustainable manner that will guarantee efficient, reliable and uninterruptible services," says Al Tayer.
Construction is underway for the first ever clean coal power plant in the GCC, a move that observers say shows DEWA's foresight in addressing Dubai's future energy needs. The 2,400MW plant located at Hassyan is based on the Independent Power Producer (IPP) procurement model and is being built by a consortium of ACWA Power and Harbin Electric.
In June last year, DEWA and the consortium signed a power purchase agreement (PPA), in addition to a shareholders' agreement (SHA) to implement the project to produce electricity using clean coal. The consortium bid a LCOE of USD 4.241 cents per kW/h, based on May 2015 coal prices.
The $3.4bn project will be supported by a 25-year PPA with DEWA, and the bidder has been required to put in place a secure delivery of coal to the project over the 25-year life of the PPA. Using ultra-supercritical technology, the project consists of four 600MW net power plants that will be operational by March 2020, March 2021, March 2022, and March 2023 respectively.
A part of its commitment to preserving the environment, DEWA has instructed that the project meets flue gas emission limits more stringently than emission limits in the industrial emissions directive of the European Union and in the International Finance Corporation (IFC) guidelines.
"This is going to set new benchmarks for DEWA in power generation due to the kind of technology being used and given the fact that it is the first time such a plant is being constructed in the region. The region will have a lot to learn from our experience," says Al Tayer.
In its zeal to break new barriers in power generation, DEWA is now exploring the potential of a hydroelectric plant at a water reservoir. The utility has awarded a $15.8mn consultancy contract to France's EDF for the $523mn 250-MW pumped-storage project at Hatta Dam.
The consultancy contract covers design, hydro-geological, geological, environmental, geotechnical and deep excavation studies. It also includes consultancy on deep-water tunnel designs, the dam and hydroelectric power station, the tender for material supply, supervision of construction work, site installation, on-site testing and commissioning.
DEWA says it will build the hydroelectric power station to generate electricity by making use of the existing water stored in the Hatta Dam, which can store up to 1,716 million gallons, and an upper reservoir that will be built in the mountain that can store up to 880 million gallons. The upper reservoir will be 300 metres above the dam level. During off-peak hours, turbines that use clean and cheap solar energy will pump water from the lower dam to the upper reservoir.
During peak-load hours, when production costs are high, turbines operated by the speed of waterfall from the upper reservoir will be used to generate electricity and connect it to DEWA's grid.
In November 2016, DEWA announced plans to construct the facility, which is expected to last 60 to 80 years. The plant is part of the Hatta Comprehensive Development Plan, launched by HH Sheikh Mohammed bin Rashid Al Maktoum, according to Al Tayer. "We are working to make the UAE one of the best countries in the world by 2021, supporting sustainable development, preserving natural resources and achieving economic, social and environmental development, in line with the aspirations of our wise leadership. We believe that this project will enable us realise that vision," says Al Tayer.
In April 2013, DEWA opened the M-Station in Jebel Ali. M-Station is UAE's largest power production and desalination plant with a current total capacity of 2,185MW of electricity and 140 MIGD million imperial gallons (MIGD). Since 2015, DEWA has worked with Siemens on the construction of the Jebel Ali M-Station expansion, as the total cost of M-Station construction along with the expansion project reaches $3.15bn.
The station will generate up to 2,885MW when the project is completed in 2018. The expansion project includes the provision of new power generating units adding a further 700MW to the installed generating capacity of M-Station. The expansion project includes the addition of two dual-fuel gas turbine generators, two heat recovery steam boilers, and one steam turbine with 90% of fuel efficiency. This will increase the plant's thermal efficiency from 82.4% to 85.8%, which is one of the highest thermal-efficiency rates in the world.
Early this year, DEWA announced plans to build 97 new 132/11 kilovolt (kV) substations over the next three years, at a projected cost of $2.72bn. The new substations will be located at Hassyan, the Mohammed bin Rashid Al Maktoum Solar Park, and other locations to support the expansion of other power plants in Jebel Ali and Al Aweer.
DEWA has so far established a total of 225 132/11kV main substations, 16 of which were commissioned in 2016 at a total cost of $544.3mn. The peak load in 2016 recorded 7,982MW, compared to 7,696MW in 2015, reflecting a 4% growth. DEWA's total production capacity is 10,200 megawatts (MW).
"We continuously adopt new solutions based on innovation, to anticipate future challenges and opportunities. DEWA is committed to enhancing the efficiency of electricity transmission networks, while ensuring electricity services for people, industry and the economy," says Al Tayer.
"We are inspired by the vision of HH Sheikh Mohammed bin Rashid Al Maktoum, to plan for the development of the infrastructure necessary to meet the increasing power and water demand in the Emirate. This will contribute to achieving Dubai's ambitious urban objectives."
DEWA lies at the forefront of the international community, reducing losses in power transmission and distribution networks to 3.3%, compared to 6—7% recorded in Europe and the USA. DEWA recorded a rate of 3.28 customer minutes lost, compared to European companies averaging 15 minutes, according to Al Tayer, which gives it a better rating in customer satisfaction. Water losses in the distribution network decreased to 8% during 2016, compared to 15% in North America.
In fact, the UAE, represented by DEWA, has been ranked first in the Middle East and North Africa (MENA) and fourth globally for the fourth consecutive year for getting electricity, as per the World Bank's Doing Business 2017 report.
Recently, DEWA announced that the construction progress of Sustainability, the 132/11 kilovolt (kV) main substation at Expo 2020 Dubai, with a conversion capacity of 150 megavolt-amperes (MVA), is 77% complete and, is expected to be operational by 31 October, 2017, with a total cost of  $28,06mn.
DEWA is building three 132/11kV substations with 45 kilometres (km) of high-voltage 132kV cables. The total cost of the electricity projects will be approximately $115mn. The substations have been named Sustainability, Mobility, and Opportunity and they are expected to support Expo 2020's theme of 'Connecting Minds, Creating the Future,' and its three sub-themes of Sustainability, Mobility and Opportunity.
The utility has signed a MoU with Expo 2020 Dubai to become its official sustainable energy partner. Also, through its data hub subsidiary, Data Hub Integrated Solutions LLC (MORO), DEWA recently signed a MoU with digital business enabler SAP to build closer ties to develop and deliver innovative applications, solutions and services based on SAP platforms for cloud services, storage, and management of data for large- and small-sized companies in the UAE and the region.
Emboldened by the desire to boost connectivity and also accelerate Dubai's transformation to a smart city, DEWA has now converted all its independent operating power stations into a network of smart grid enabled power plants.
The strategic step is in line with the UAE National Innovation Strategy that aims to make UAE one of the most innovative countries in the world. The project involves the development of information systems at each station to transmit joint performance data, as well as the development of the one-way data diode (ODD) and using it to protect each station from cyber-attacks.
Designed in 2014, the DEWA Smart Power Plants system has transformed its existing power station data into a series of reports that can be used by DEWA specialists to support their decision-making, and transform the huge amount of data into an innovative graphic display.
This provides a comprehensive and transparent real-time view of the status of stations, so that staff can analyse problems such as technical failures, and support rapid and accurate decision-making, especially during emergency situations.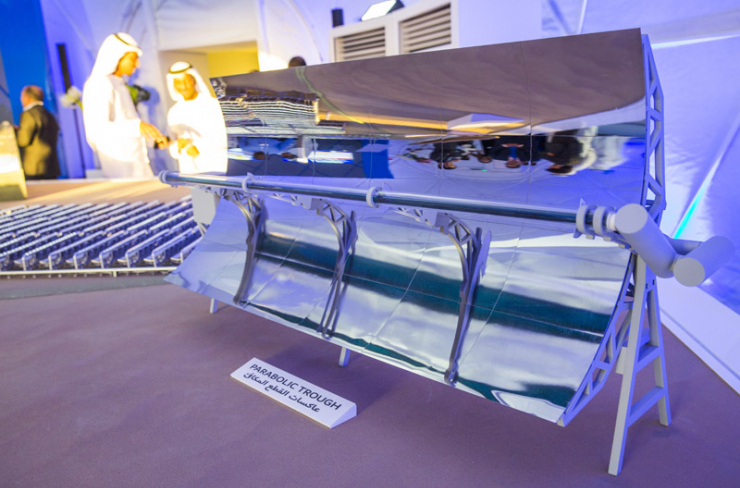 "Within the framework of our vision to become a sustainable innovative world-class utility, we are actively promoting and implementing initiatives to develop data systems in an innovative way," said HE Saeed Mohammed Al Tayer, MD & CEO of DEWA. "This system, which has gained local and global recognition for its high level of innovation, has been a core factor in DEWA achieving the world's leading service standards for the services it currently provides."
The smart power plant system is utilising DEWA's manpower, expertise and knowledge, which it then applies to its functions. It then uses the data to analyse events and issue smart reports, providing an advanced level of support to decision makers.
DEWA's smart power plants system allows for the monitoring of equipment at each station and compares it with other stations, which speeds the process of finding solutions to various technical glitches.
DEWA and Korea Electric Power Corporation (KEPCO) signed a joint contract in 2016 to build a Smart Grid Station (SGS) at DEWA's green garage in Ruwayyah. The SGS is a modular concept that connects smart grids to smart buildings and is seen as a big step in boosting smart infrastructure in Dubai.
In May 2016, DEWA conducted a ground-breaking ceremony for the first phase of the (SGS). The pilot project brings smart grids and smart buildings together. DEWA is exploring the concept of SGSs, which connect smart buildings to each other to share information, to help improve energy and water efficiency and make optimal use of renewable energy within a smart city.
The project will include several new ideas and developments regarding wind energy, battery storage and building management. The project is part of DEWA's efforts to support the Smart Dubai initiative to make Dubai the smartest and happiest city in the world.
These smart initiatives include Shams Dubai, a net metering programme that encourages building owners to install photovoltaic panels on their rooftops to generate electricity from solar power. The electricity is used onsite and the surplus is exported to DEWA's grid. An offset between exported and imported electricity units is conducted and the customer account is settled based on this offset.
The initiative is already generating a lot of interest in the Emirate with several companies installing photovoltaic panels on their rooftops. Construction of the largest distributed solar rooftop project in the Middle East is underway after DP World commissioned the installation of 88,000 rooftop solar panels on its Dubai facilities in Jebel Ali Free Zone and Mina Rashid.
As of June 2017, 429 buildings were connected. This includes residential and commercial buildings in Dubai with a capacity of over 14.2MW. DEWA has enrolled 63 contracting and consultancy companies for Shams Dubai. A total of 247 engineers have been certified as enrolled electrical and solar photovoltaic consultants and contractors. 70 manufacturers of solar power equipment registered 578 products as eligible for Shams Dubai. DEWA is cooperating with 19 government organisations to install photovoltaic panels on 35 government buildings.
Also, as part of the smart initiative, DEWA is installing one million smart meters across the Emirate by 2020, replacing all mechanical and electromechanical meters in time for Expo 2020. Al Tayer says that the smart meter initiative is part of a major drive towards enhancing electricity and water transmission and distribution networks.
"DEWA is actively contributing to support the Smart Dubai initiative launched by HH Sheikh Mohammed bin Rashid Al Maktoum, to make Dubai the smartest and happiest city on Earth. To support this objective, DEWA developed a comprehensive strategy to implement a smart electricity and water infrastructure. This is what we call a smart grid, which will provide advanced features and includes automated decision-making and interoperability across the entire electricity and water network. The smart grid is a key element in DEWA's strategy to develop an advanced infrastructure to support Dubai becoming a smart city. Smart Grid also supports the Dubai Integrated Energy Strategy 2030 and its overall objective of 30% demand reduction by 2030."
"Our experience in implementing the smart grid strategy is unique because it is fully-integrated. DEWA has developed the smart grid strategy, which is a key component of a smart city. We have developed plans and programmes for energy efficiency and operational improvement under the smart grid strategy."
The smart grid strategy contains 10 programmes that will be completed over the short, medium- and long-term. These programmes are:
Advanced Metering Infrastructure for Electricity (AMI-E), Advanced Metering Infrastructure for Water (AMI-W), Asset Management, Distribution Automation (DA), Information Technology Infrastructure (ITI), Transmission Automation, System Integration, Telecommunications, Big Data and Analytics and Security
The Electric Vehicle (EV) Green Charger Initiative was launched to promote green transportation in the city. Electric vehicles operate on electricity as an alternative for fuel and contribute towards the preservation of the environment through emission reduction. At the time of the launch of the initiative, there were a very limited number of electrical vehicles in Dubai mainly because there was no EV charging infrastructure available. Hence, DEWA, as the electricity provider for Dubai, took the lead in setting up the first EV charging infrastructure in the UAE to encourage the public to switch over from petrol to electric vehicles.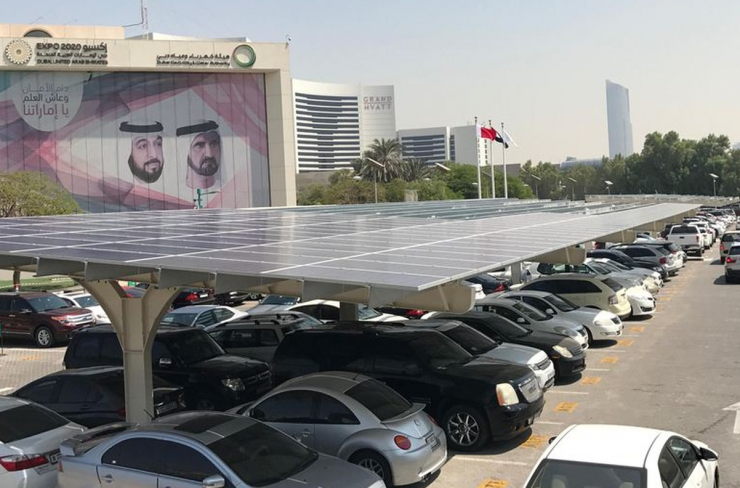 DEWA successfully installed 100 electric charging stations by December 2015, in different areas of Dubai such as government offices, airports, gas stations, commercial offices, clinics and hospitals, residential complexes and establishments. Furthermore, DEWA has announced plans to increase the number of charging stations to 200 stations. 
Different types of charging stations are being set up, including fast-charging stations installed at petrol stations that take 20-40 minutes to charge. These stations have three different plugs, one with a capacity of 48 kilowatts (kW) for Alternating Current (AC), CHAdeMO plugs, and Combo plugs with a capacity of 50kW of Direct Current (DC). Medium-charging stations installed at parks, and Dubai government customer service centres take 2-4 hours. The stations feature two plugs, each with a capacity of 22kW. Wall-charging stations with a capacity of 22kW for AC will take 2-4 hours to charge.
DEWA is progressing with the Smart Applications initiative through smart meters and grids, as part of initiatives that include Shams Dubai and the Green Charger initiative. Last month, DEWA launched a web application to help customers easily decide on the installation of photovoltaic panels on their rooftops to generate electricity from solar power. The app, dubbed Shams Dubai Calculator, will provide detailed comparisons and additional information to help consumers use the innovative tools.
While desalination accounts for nearly 99.5% of all the potable water produced in Dubai, the process is energy intensive, prompting calls for water conservation as one way to scale down fuel consumption at desalination plants and reduce carbon emissions. Raising awareness on the importance of water and energy rationalisation is a key priority for DEWA in achieving its vision to become a sustainable innovative world-class utility.
DEWA supports the sustainable development of Dubai by promoting and consolidating a culture of rational use of natural resources to create a better future for generations to come.
DEWA regularly organises awareness programmes and innovative initiatives to encourage all members of society to adopt a positive approach towards the rational use of electricity and water. These include initiatives such as its Conservation Award, Best Consumer Award, Neighbourhood Campaign, and Ideal Home.
Between 2009 and 2016, DEWA's customers saved over 1.5 TW/h of electricity and 6.2 billion gallons of water, worth AED 957 million. The generated savings resulted in offsetting around 831,000 tonnes of carbon emissions, which equates to planting 944,000 trees.
DEWA's programmes and initiatives managed to reduce electricity use by 19% and water by 28% in the residential sector. The commercial sector reduced electricity use by 10% and water by 30%. The industrial sector reduced electricity use by 15% and water by 21%. Educational institutions succeeded in reducing electricity use by 9% and water by 24%. Government and semi-governmental organisations reduced electricity use by 12% and water by 21%.
Such initiatives support the Demand Side Management Strategy 2030 to reduce electricity demand by 30% by 2030. This has 9 main programmes that support the sustainable development of Dubai. These include: green-building regulations, retrofitting of existing buildings, district cooling, wastewater reuse, laws and standards to raise efficiency, energy-efficient street-lighting, and the Shams Dubai initiative to enable building owners to install photovoltaic panels to generate electricity and connect it to DEWA's grid. "We adopt the concept of innovation as part of our vision, and created Strategic Innovation to raise its importance as a theme to encompass 40% of DEWA's strategic map," says Al Tayer.
DEWA contributes to the Smart City Initiative and Dubai Future Accelerators initiative by supporting continuous R&D to keep pace with rapid technological developments. This is done through incubators that innovate technological models and solutions, develop renewable energy technologies, and review the best international experiences in operating systems, mobile computing, 3D printing, cloud computing, virtualisation, distribution systems, software engineering, the Internet of Things, robots, chatbots, Artificial Intelligence, Augmented Reality, Virtual Reality, Open and Big Data, and using drones in the energy and water sectors.
DEWA is clearly working to deliver a better lifestyle for the citizens and residents of Dubai, based on plans for clean energy and sustainable water supplies. By combining clean energy and expanded capacities with greater efficiencies, based on the latest digital technologies, DEWA is living up to its motto of working 'for generations to come.' Such forward thinking attitudes make it unique in the region, perhaps for generations to come.